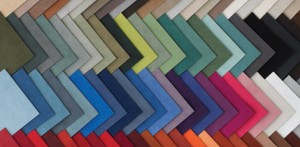 Everyone loves to use soft materials in Hospitality projects, it adds a touch of luxury and well, it simply feels good! One widely popular material specified by many designers is a microfiber product known as "Ultrasuede". Made from the waste of the petroleum industry, this product is used as an artificial substitute for suede leather.
Ultrasuede has been widely used in the fashion industry, the automotive industry, and now the furniture and design industry due to its look and function. Most Ultrasuedes are composed of fibers that include polyester & polyurethane in various proportions. Polyester is a popular fiber used in many commercial-grade upholstery products due to its ability to have high color retension, its high durability, & the added benefit of reducing fabric wrinkling. The polyurethane content adds the benefit of abrasion resistance which eliminates pilling, or "fuzzing" of the fabric. The combination of these two ingredients creates a product that is soft & breathable like cotton which makes it mildew resistant, and is extremely stain resistant, so what could possibly be bad about using this product everywhere in your hotel?
I would first like to state that I don't dislike Ultrasuede products nor am I saying NOT to use this product in your hotel property.  I just want to point out that there are certain applications where this product may not be the best solution because of the nature of its contents. While you can pour all the liquids you want onto Ultrasuede while you watch in fascination how it just beads & rolls off, there are some substances that this material simply is not resistant to, including some types of ink, oil/grease, & high heat or open flames.
Ink
While ball-point pen ink may be easily removed from some Ultrasuede colors, permanent marker, felt-tip-pen, & other types of ink cannot be fully removed from this fabric due to the fact that it is a dyed material. It easily absorbs dyes, which allows the wonderful variety of colors available in the market, but on the same token, it will absorb any permanent color it can take!  This means that using Ultrasuede upholstery in areas of the hotel that are highly prone to the use of permanent markers, such as the meeting/conference areas, is not recommended.  Also in the guestroom area, the desk chair may be prone to "ink accidents" and is also not recommended as an Ultrasuede candidate.
Oil and Grease
Due to the polyester fiber composition derived directly from petroleum, oil and grease are very difficult to remove from Ultrasuede. This material is a magnet to oil and grease, therefore it is not recommended to use material in the spa or pool areas of the hotel where body lotions and oils are widely used.  Another mistake a lot of designers make is using Ultrasuede as a headboard fabric.  With the variety of haircare products that many guests use, your headboards will look very dirty very fast, creating a negative perception of cleanliness in the guestroom.  Also, the luggage benches in the guestrooms. With the grease and oil from the suitcase wheels, you will have a constant stain on your furniture which will affect customer satisfaction. These stains can be removed, but it requires a very specific cleaning procedure of soaking a rag in ethyl alcohol (rubbing alcohol) and blotting the stain several times then allowing the stain to dry (never pour the alcohol directly onto the fabric). Using water and detergent on this type of stain will only create permanent water marks on top of the oil stain. Training housekeeping to maintain this product cleaning can be very difficult & oftentimes futile.
High heat or open flame
Because this is a petroleum-derived product, it will melt incredibly fast if exposed to an open flame or high heat. Using this material in areas of the hotel where guests smoke can result in high damage to your furniture. Avoid using this in casinos, bars, & restaurants in properties where cigarettes or ash can fall onto it.  Also avoid using anywhere that a guest can place a hot flat iron, curling iron, or plain iron on top of it or near it, such as in the guest room. This material will melt quickly and the edges will become hard and "plastic-y".
Aside from these "caveats", Ultrasuede can be successfully used throughout the hotel property and can add a luxurious and colorful touch to your design as well as great durability through guest wear and tear. The trick is to use it wisely!!