Would you like some e-coli with your coffee?

This issue is as divided as who
came first, the chicken or the egg.  Some people feel that placing the coffee maker in the guestroom bathroom is logical because it involves using water, therefore it's easier to just have this machine near the sink to fill and wash.  While this concept works in a kitchen environment, a bathroom is a whole other pile of……….well, you know.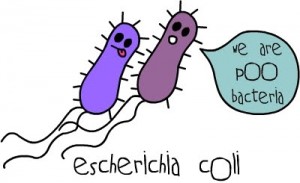 From a hygienic point of view, having any kind of a food product in an environment that has a higher tendency for bacteria floating around is just not a good idea.  Coffee makers oftentimes have open grills or vents for the steam which also makes them easy access openings for any floating bacteria particles to get into.  Studies have shown that airborne bacteria from flushing toilets, use of towels, clothing, as well as coughing and sneezing can land on surfaces in the bathroom on a regular basis.  While a wipe-down with detergent will kill the majority of these bacteria making the bathroom clean and sanitary, the housekeeping staff is not cleaning out the coffee makers inside and out on a daily basis to guarantee the same sanitary conditions.
Designers hate to place the coffee maker in the room, calling it an "eyesore" or carving out valuable real estate to place it on one of the few horizontal furniture surfaces.  But rather than making it an after-thought and merely sticking it in somewhere the day before opening, we need to accept the fact that guests like to brew their own coffee, many of whom own personal brewer systems at home.  To avoid any health issues, it is better design practice to place these appliances in the guestroom or foyer area rather than in the bathroom itself.  Besides, coffee tastes better without bacteria.
You may go and get your anti-bacterial now.