Don't use loose throw pillows in a Hotel lobby
This was a lesson I personally learned the hard way.  After a day of carefully placing a variety of colorful custom throw pillows specially designed for a Hotel lobby project, I returned to the office and within 7 days received a call from the property that the throw pillows had been mysteriously disappearing.  Apparently the guests checking out of the hotel felt I had placed these beautiful accessories as parting gifts for them to take as a souvenir from the hotel.  In looking at the bright side, I consoled myself by knowing my design aesthetic was being displayed in private homes all around the nation, but when it comes to the hotel reality, we were back to square one. 
Unfortunately, even though the expendable income of the average hotel guest has increased, the old hotel adage still exists – if it's not nailed down, it will walk away!!  If you're going to use throw pillows in a lobby, just make sure they are attached or semi-attached, making it a lot more difficult for a guest to simply "accidentally" grab one on their way out!  These are hotel accessories and not decorative "after dinner mints" for the guests to take.
The other non-spoken issue with throw pillows is the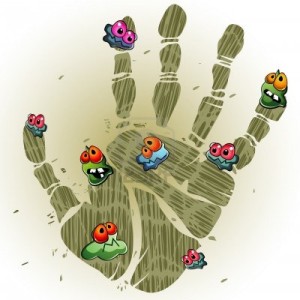 fact that they can also become living, breathing petri dishes in the hotel lobby.  With the amount of traffic that moves through a lobby on a daily basis, people, especially the young ones, tend to grab onto these pillows, move them around, throw them on the floor, have "pillow fights",etc.  You can be almost guaranteed that these pillows do NOT get cleaned on a regular basis which means that every time housekeeping rearranges them neatly back into their places, the germs, dust, and all other fun things that are in the pillows or on the surface have also been neatly placed for your entertainment as well!
Accessories are an integral part of "decorating" any space, and throw pillows add a touch of home and a pop of color to any space.  If you do use these decorative accents, then make sure that the fabrics used are durable, easy to clean, and made from materials that will be as "anti-microbial" as possible.  Also make sure that they are tied down somehow, either fully attached or semi-attached to avoid them becoming active members of the lobby area as much as possible. Or souvenirs.  That's what the gift shop is for!