Don't use marble countertops in bathrooms or bars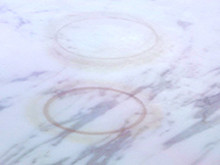 You don't need Michelangelo to tell you that marble is one of nature's most beautiful creations.  When used properly, it can add a level of luxury and sophistication to any Hotel project.  Composed primarily of Calcite, marble can be used as either a polished finish or a honed (dull) finish on both walls and floors.  But the flip side is that Calcite makes it a very porous material, which means that marble is highly susceptible to stains and acids.  This means that marble should NOT be used anywhere that needs heavy chemicals (such as bleach or ammonia) on a daily basis, like bathroom or bar counter tops.  This daily cleaning which is required by health code in these areas will literally disintegrate the marble tops.
Wine, coffee, & cranberry juice will also easily stain marble, which makes it inadvisable to use in food and beverage applications.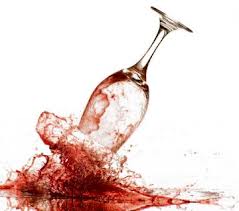 Granite and other aggregate conglomerates are much better choices, giving the look of natural stone, but with the durability needed to stand up to use and abuse.  While one may argue that the Coliseum and the Parthenon are still standing and they're made out of marble, I have to remind everyone that the Greeks and the Romans were not into the Hospitality business.  For the rest of the world,  we have to make sure our countertops don't look like the Lines of Nazca after a few weeks!  Be aware of the materials you specify, and make sure you understand their limitations in the application.  Cheers!