Don't use adjustable lamps!!
If my design existence had a bane, this would be it!!  Every time I see a spec for a wall or floor lamp that has an adjustable or a cantilever arm placed in a hotel guestroom or lounge area, I immediately know that the designer has NEVER spen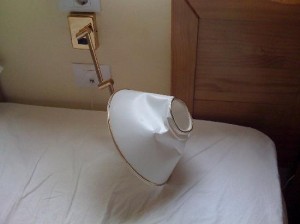 t any time speaking with anyone from the engineering or housekeeping staff, like….EVER!  The primary rule to designing for a hotel is that if it can be easily destroyed, it will be!  Moveable parts in any piece of furniture or lighting that is used primarily by a guest are an invitation for destruction.  Moveable arms on a lamp will guarantee that the guest will always try to adjust the angle because, well, they can.
Cantilever lamps, while very stylish,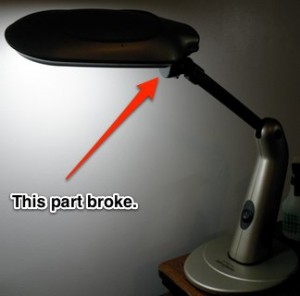 are structurally unstable & can be easily tipped over if the base is not properly weighted ( a minimum of a 25 lb base is recommended). If you absolutely, positively HAVE to use an adjustable lamp because you simply CANNOT find a lighting solution without movable parts, just make sure that the joints are engineered for heavy duty abuse use, otherwise it will be a surefire guarantee that the hotel will need to replace this lamp within a few short weeks.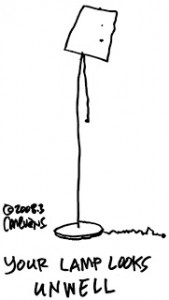 If there was one item that I saw consistently in the hotel "morgue" known as the engineering storage room, it was broken adjustable lamps.  Anything that looks like "lamp-on-a-stick" will not hold up well in a hotel environment.  Make sure that the materials specified are also good quality and have the proper metal gauge as well, oftentimes to save money some designers will specify aluminum for the lamp body and this will not hold up as well as some of the heavier gauge metals.  It is best to stick with functional lamps that will provide enough lighting in the room but that have as few adjustable pieces as possible.  The less interaction they have with the guest or housekeeping staff, the longer they'll last!