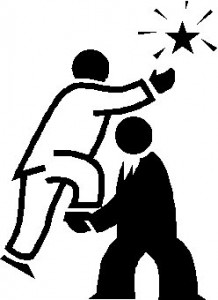 Mentoring
Although I typically write about design-related topics, I was recently reminded about the importance of mentoring & I wanted to share my thoughts on this ever important yet largely ignored topic.  Throughout my career, I have had the privilege of counting on a handful of persons which I call my "guardian angels" or otherwise known as my mentors, and a few weeks ago I was inadvertently thrust from being a mentee, and became a mentor to a young colleague in my industry.
Mentoring is defined as "a personal developmental relationship in which a more experienced or knowledgeable person helps guide a less experienced or less knowledgeable person." (Wikipedia).  This definition can be extracted from ancient mythology, specifically Homer's "Odyssey", where Odysseus left his son,Telemachus in the care of an older man named Mentor. As it turns out, Mentor is actually Athena, goddess of wisdom disguised as the old man, who helps guide the young prince during the absence of his father.
As most people can relate, my career started off in a very rocky and uncertain way. The economy was not good, and the design jobs in the mid-90′s were few and far between. After stumbling around for a little over a year working in a very small firm, I was given the opportunity to work at Gensler.  It was a company I had dreamed about working for since my college years, and to finally have the chance to work there seemed almost impossible, but there I was!  Well, once I walked in the door, my initial elation was immediately replaced by terrorizing fear that maybe I wasn't good enough to be there, surrounded by people who were much more talented than I was. I was sure that at the stroke of noon I would turn back into a pumpkin and be kicked out of there!  After a few days of stumbling around getting my bearings, I was standing in the corner of our weekly staff meeting when I was approached by a fellow co-worker who had the biggest smile I had ever seen, Brian G. Thornton.
He took it upon himself to be my office mentor, giving me tips on how to maneuver my way through the work day and slowly gain confidence in myself as I worked on the various projects. Although we were not in the same studio, I felt that I had someone that I could always go to with my questions, concerns, and self-doubts. He also helped create the mentorship program for the summer interns and encouraged me to join as a mentor, a task I thoroughly enjoyed!  I left Gensler after almost 3 years to pursue a different career path into Hospitality design as well as a new adventure in New York City. Although I was in a different city and a different firm, I still stayed in touch with my mentor and now friend, Brian. We followed each others' careers over the years with support, encouragement and connections, & I was so happy when I was presented with the opportunity to help him in return. He now runs his own very successful design firm in Las Vegas working for all the major Hospitality brands.
After 13 years going at full speed and reaching incredible heights, I was faced with yet another major change in my career this past year, & felt a bit lost.  I didn't know what to do, but the one thing I did know was that I could talk to my mentor, so once again I reached out for guidance and help, & Brian, as always, was there to offer it.
In the midst struggling with the ups and downs of figuring out life's next steps, I had the opportunity to attend a leadership conference last month in San Francisco.  While I was there to get some guidance myself, I was assigned to sit at a table where a young woman was seated, looking lost herself.  We struck up a conversation & throughout the day I offered her some advice on questions she asked me. At the end of the day I told her that if she needed more advice, that she could contact me at any time & I would try to give her guidance as best I could. To my surprise, she did contact me shortly after I got home and thanked me for my words, saying that I had no idea how much they had helped her. That's when it hit me, a realization that has affected me so profoundly:
Even when you're down, at your lowest point, people still look up to you.
The magnitude of that responsibility hit me like a ton of bricks. It made me realize the importance of relationships and human interaction in life, but especially in your career. While I certainly don't have all the answers, & I'm still stumbling trying to figure things out myself, I have the knowledge and the experience to help someone else out on their journey. It was a humbling experience to know that my words & guidance helped someone who is just starting their journey & made me realize how important mentors truly are.
The thing I love about mentoring is that it is truly done from a place of selflessness.  The mentor gets no gain out of doing this other than the satisfaction of watching their protogé achieve their successes one by one. It's the "pay it forward" mentality of leaving an unwritten or unspoken legacy in the world but knowing what the feeling of true satisfaction actually feels like. It also creates an overwhelming sense of responsibility not only to yourself, but to the industry or the community you belong to.  My alma mater, Virginia Tech has a school motto: "Ut Prosim" which means "That I may serve". By helping others achieve their dreams, you get to fulfill your own, without even knowing you're doing it!
"We make a living by what we get, we make a life by what we give."~ Winston Churchill